PTA Executive Board 2016-2017
East-West School of International Studies
Sharlene Tillett, President
Anna Tsang, Treasurer
Wendy Giron, Secretary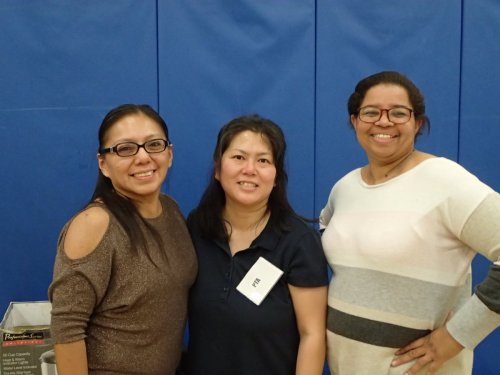 From l to r: Wendy Giron, Anna Tsang, Sharlene Tillet
Dear Parents, Guardians, Teachers and Staff,
Welcome back to all returning families!!! And, a big WELCOME to our new families.  We are very excited for the new school year 2016-17 and look forward to seeing you at the PTA meetings and fundraising events.  We are really excited and look forward to providing a structure where parents/guardians and teachers/staff can work together for the best possible education and welfare for our students. Fundraising is one of the most important functions of the PTA. These funds can assist the school's expenses that are not in our school's budget (closing the budget gap).  It can also provide funding for arts, drama and dance. These are an integral part of each child's success.  We truly believe having these classes contribute to each child's academic success throughout the year.
Every year the PTA holds a fundraising event from August –December; we will begin our membership pledge drive fund through December.  The suggested donation is $20.00 per family.  We have extended the drive to give all parents the opportunity to participate.
The PTA needs your support more than ever.  We need your help.  PTA raises funds through membership and fundraising events (for example: bake sales, photo sales, Walk-A-Thon, etc).  From these funds, the PTA provides a wide range of educational enrichment programs, scholarships, classroom materials, music/art, tutoring and much more!   Without these funds, educational programs will otherwise be unavailable to our 660+ Middle –High School students.  Your generous donations helped pay for the following items this past school year of 2013-15:
Scholarships for High School Students $600.00;        
Scholarships for Middle School Students $225.00
Transportation to Senior Center for Dance Show $500.00;  
Dinner for Talent Show Performers $160.00
Refreshments for Stepping Up & High School Graduation Ceremonies $1400.00
Staff Appreciation Luncheon $900.00;
Hospitality $470.00;
and much more…..
We welcome you to join our meetings and contribute your ideas and talents to better our school's community.  PTA meetings are held every first Saturday of the month starting at 10:00 AM.  All meetings and dates will be posted via our school website (www.ewsis.org). Reminder emails will be sent to all ptaboard1617@ewsis.org contacts, and there will be a phone blast two days before each meeting.  For the PTA to be effective, everyone's participation is important. We encourage you to volunteer.  Please keep in mind volunteering is an effective way to show your children you care about their education and accomplish things that truly make a difference. 
On behalf of the PTA, we would like to thank you in advance for your generous donations and support.
Email the PTA at ptaboard1617@ewsis.org
News and Meeting Announcements
2016-17 PTA General Meeting Calendar