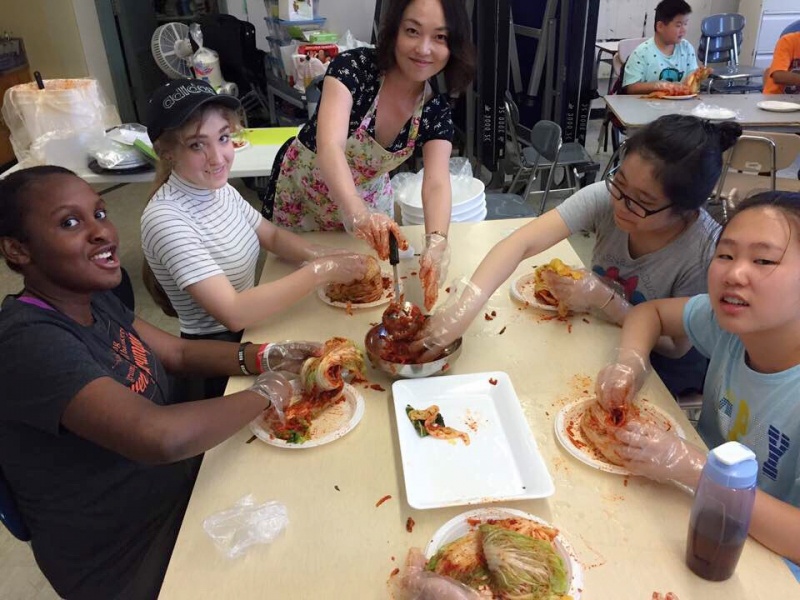 East-West's Korean Startalk program was a 5 week language enrichment program in the summer. Students were set in an immersion language classroom in which Korean was the primary language. Throughout the summer Korean language and culture was explored through Korean food, music, dance, art, and martial arts. Students took weekly trips to explore the NYC Korean community in Manhattan and Queens and to practice language skills in real life situations. The summer culminated in a giant celebration in which students' accomplishments were celebrated.
On August 12, 2015, The Korean Channel TV News Desk visited East-West.  Click here to view the news coverage. Mrs. Kim, East-West's Korean Teacher shared her experience of the program,
I would like to thank you for your support with the Startalk Korean Program. Gamsahamnida( thank you) for providing me this great opportunity. I was able to learn and grow more as a Korean teacher. I had the chance to write the entire curriculum on my own and to learn guiding the new teachers. It was really fun to work with the students. The students were able to hold basic conversations and introduce themselves in Korean. It was very rewarding to see the students grow. They all looked very confused in the beginning of the program when the instructions were mostly given in Korean, however, they got more comfortable. It was a huge deal to see them excited to come to the program everyday. Some of the students came from a far distance, such as Pennsylvania and Long Island. The students really put a great Startalk show and it was great to see how much they learned in a short period of time! I would like to give A for the teamwork of the program staff and another A for students work. It wasn't easy, but it was definitely rewarding!