PTA Executive Board 2017-2018
East-West School of International Studies
Sharlene Tillett, President
Cora Wong, Treasurer
Karen Curzio, Secretary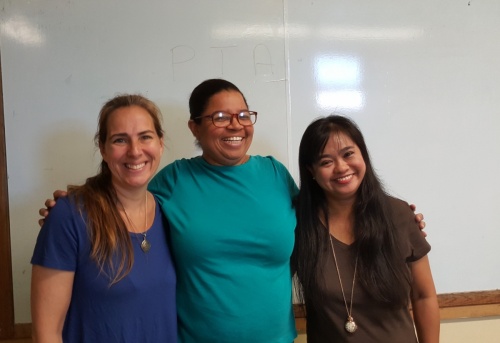 From l to r: Karen Curzio, Sharlene Tillett, Cora Wong
Dear Families of EWSIS, 
Welcome to all returning families and a big WELCOME to our new families! We are very excited for the new 2017-2018 school year! We hope you enjoyed a restful and safe summer vacation. The PTA is made up of many dedicated volunteers and supporters. Over the years we have initiated many events and fundraisers that enable our children to enjoy enriching programs as well as have fun at EWSIS. In the past 2016-2017 school year, the PTA was able to support/sponsor: 
Student Scholarships               $1,125 
Hospitality (PTA mtgs, Teachers Appreciation Breakfast, etc)  $1,305 
Fundraising Supplies  $2,669 
Summer Bridge Refreshments $360 
DJ & Photo Booth Halloween Party $300 
Student Work Initiative  $675 
Throughout the years, the PTA has hosted many community events including dances, festivals, walk-a-thons and book fairs. We look forward to continuing that tradition with your help. 
It is the donations and support of all our East-West families that make all this possible. In order to continue these programs, the PTA holds an annual Membership Drive to accept donations. We suggest a donation of $25.00 per family, but we gratefully accept any contribution, whether larger or smaller in the attached envelope. Parents, guardians and teachers of students attending EWSIS are automatically members of the PTA. We truly appreciate your support!  
Sincerely, 
PTA of EWSIS 
Email the PTA at ptaboard1718@ewsis.org
News and Meeting Announcements
2017-18 PTA General Meeting Calendar