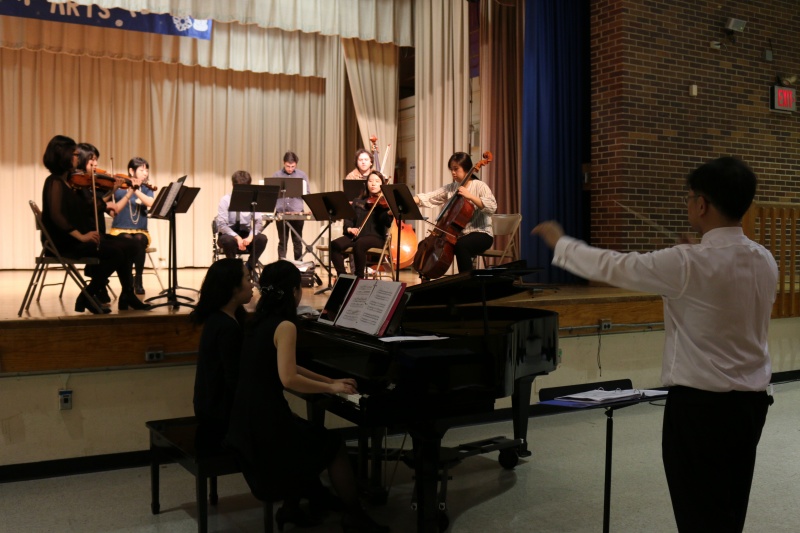 Our middle school students were treated to a live performance of Camille Saint-Saëns's The Carnival of the Animals on Tuesday January 23, during Regents Week.
Under the musical directions of Maestro Dong Hyun Kim, the Queensboro Symphony Orchestra performed the fourteen pieces with specific sounds of animals for each.
Mr. Paul Joseph expanded our students' imagination by inquiring which animal or groups of animal the individual piece sound like.  From the first piece of a lion's roar, to the sound of tortoises in Offenbach's Can-can from Orpheus in the Underworld, to how the composer illustrated the sounds of the Aquarium using a glockenspiel, our students listened intently, responded with enthusiasm and were respectful audiences to the members of the Queensboro Symphony Orchestra.
Pianists Ms. Noi Otomasu and Ms. Moeko Chiyozaki demostrated a typical practice session with the orchestra and capped it off with a selfie on Ms. Otomasu's iPhone.
Mr. Joseph introduces Maestro Kim and explains the crucial role he plays in conducting his orchestra.
And for the finale, our students were able to see and hear how all the pieces join together to create Camille Saint-Saëns's The Carnival of the Animals.  Click here to view the Looney Tunes rendition of The Carnival of the Animals.
For more information about the Queensboro Symphony Orchestra and attend their next concert, visit their website at www.queensborocymphony.org