January 21, 2011 - 8:53am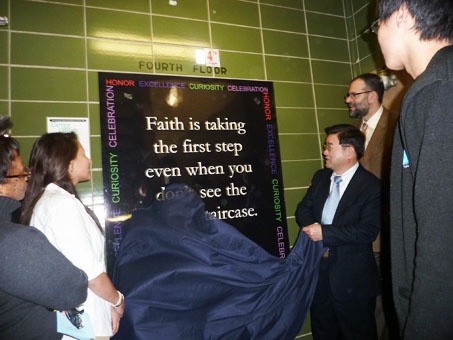 Last Thursday, we held a reception to officially unveil the inspirational signs that we placed throughout the school over the summer. The signs have quotes from influential leaders, which were voted on by the teachers and principal. The signs were produced using funds from our Gates Foundation grant.
Councilman Peter Koo unveils a sign with a quote from Martin Luther King Jr.
In attendance were Flushing community leaders, East-West staff, students Katherine Gutierrez and Brian Park, Councilman Peter Koo and Emily Kaiser, a reporter from the Queens Chronicle.
The ceremony preceded a meeting of the Community Advisory Board, a crucial part of our school's support network. The Community Advisory Board is comprised of Flushing community leaders who meet regularly with East-West staff to help guide our decisions affecting the school and community.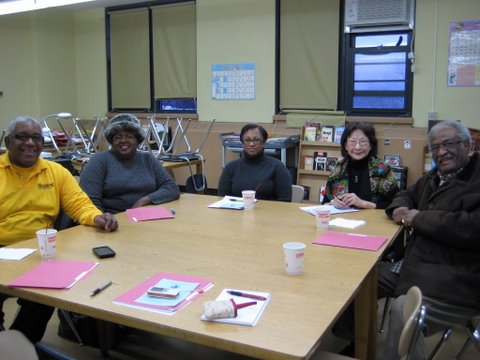 From left to right: Kenneth Cohen, Valerie Littleton-Cohen, Shirley Bryant, Dorothy Woo, John Henry Byas. Not shown: Linna Yu, Principal Sherman, Julia Cheng
Here is an excerpt from the Queens Chronicle article on the event:
"Faith is taking the first step even when you don't see the whole staircase," reads one of nine new banners unveiled last Thursday at the East-West School of International Studies in Flushing.
Faculty, students and community members on hand to celebrate the event hope those words of the Rev. Martin Luther King Jr., and others, provide inspiration as the small school continues to grow.

"We thought it would be very nice to unify the school under these banners and quotes," Principal Ben Sherman said. "It's very common when you go to charter schools to see these large inspirational signs, but these are very unusual in public schools, so we wanted to give these their own public spaces."
Click here to read the article in its entirely.