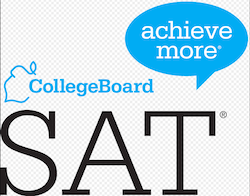 SAVE THE DATE
Wednesday, April 5, 2017
All 11th grade students will take the SAT.
All 10th graders will take the PSAT.
Our previously requested release of 9th and 12th graders on April 5th has been canceled by the DOE.
ALL HIGH SCHOOL STUDENTS WILL BE IN ATTENDANCE for the FULL SCHOOL DAY.
Students in grades 9 and 12 will follow a special schedule for the entire day. Students will eat lunch in the cafeteria period 5.
Students in grades 10 and 11 will be served a bagged lunch after they finish their exams and will follow a special schedule for the remainder of their school day. Students WILL NOT BE RELEASED until their regular Wednesday dismissal time.
Middle school students will follow their regular schedule.