January 21, 2011 - 10:02am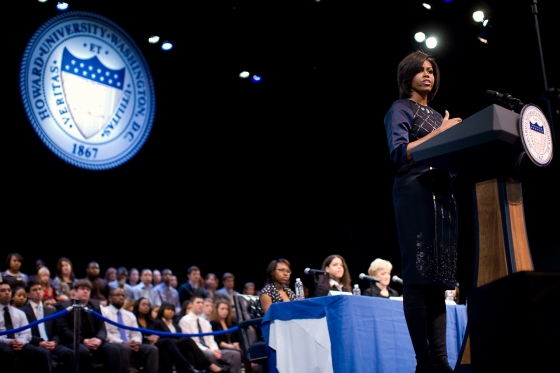 Michelle Obama gives keynote speech
On January 19, 2011, students, teachers, and school leaders from 21 schools in Asia Society's Confucius Classrooms Network traveled to Washington, DC to attend an event with First Lady Michelle Obama, where she underscored the Obama administration's commitment to the "100,000 Strong Initiative."
As a Confucius Classroom, East-West was able to send Ms. Chang and Farisa Ahmed to participate in this once-in-a-lifetime opportunity. Farisa was thrilled when she found out that she would be East-West's student representative:
When I was told I was given the opportunity to go meet President Hu Jin Tao and First Lady Michelle Obama, it was a moment of complete bliss. All my years at east west just flew through my brain like a tornado. I was very grateful to everyone who made the trip possible. Excitement rushed into my heart, because it was the first time I would be visiting the nation's capital. Washington D.C just had a certain ring to it that made me jump for joy. Over the course of two days China and U.S. relations was the only thing I could think about.
In her speech, Mrs. Obama said that by studying abroad, students are helping to make America stronger. She quoted her husband, saying: "America has no better ambassadors to offer than our young people." Mrs. Obama's keynote was followed by a panel discussion with students who shared anecdotes of their experiences learning Mandarin and studying in China. Afterward, student representatives shook hands and chatted with the First Lady.
The event, which took place on the campus of Howard University, coincided with the visit of Chinese President Hu Jintao to Washington, DC.
Asia Society's Confucius Classrooms were invited to this event because of their strong commitment to building an educational partnership with schools in China, supporting their students in learning Chinese, and sending them to study in China.
At Morning Muster the day after she came back from Washington D.C., Farisa described her experience in front of the student body, but confided that she wasn't so sure about it being a "once-in-a-lifetime opportunity":
"When I shook her hand, I had a feeling I was going to see her again."
More photos under the cut and more to follow!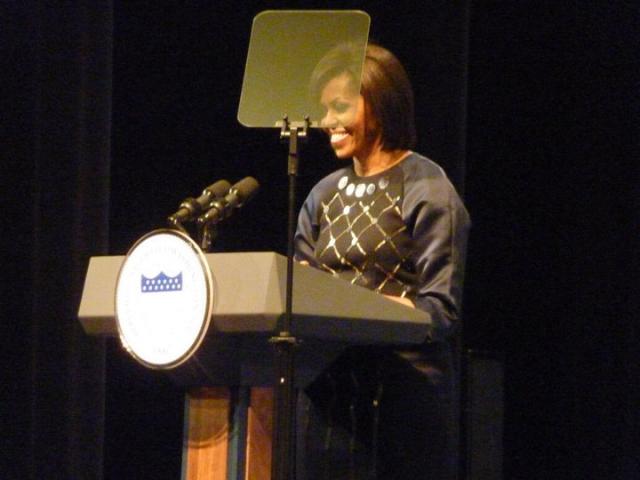 Michelle Obama gives a keynote speech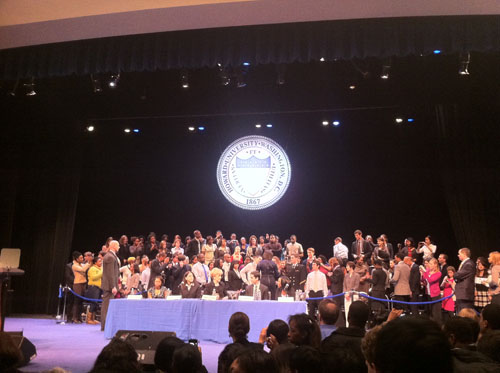 Michelle Obama onstage with students reps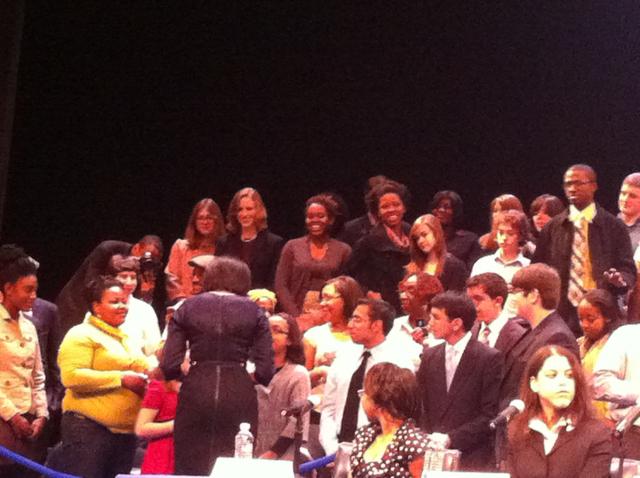 Michelle Obama speaks to Confucius Classroom students
For more information:
Asia Society: www.AsiaSociety.org/Chinese
White House press release: First Lady Michelle Obama urges American youth to strengthen US-China ties
The 100,00 Strong Initiative: http://www.state.gov/p/eap/regional/100000_strong/index.htm