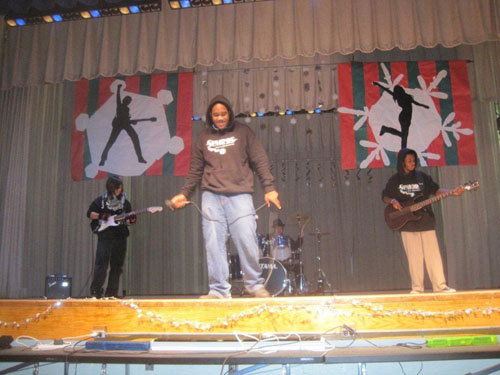 Japanese acoustic
On December 15th, over 66 students (and one teacher!) showcased their acting, singing, and dancing skills at East-West's 2010 Talent Show. Spearheaded by Ms. Marinos, it was the most successful show the school has seen so far --- for the first time, all tickets were sold out.
The evening included Japanese acoustic, Justin Bieber, tap-dancing, Korean pop, and more. It was capped with an epic 20-minute long student-choreographed group performance that evoked robots, zombies, Michael Jackson, and Romeo & Juliet.
Here are some rave reviews:
Ms. Lopez, Science
That was the best show at East-West! Thanks, I had a great time...Congratulations! Two thumbs up!
Ms. Pechersky, Special Education
This was the most amazing show of talent, dedication, community spirit, and honor that our school celebrates. Congratulations on this exceptional success to Ms. Marinos, students, and everyone else who worked so hard to make this incredible event happen.
Ms. Rhi, Korean/ESL
What a great show!  Every year it gets better and better.

Our students shined. They were all shining stars, and most of all they enjoyed themselves.
Congratulations to Ms. Marinos and to all the people who helped make this into a successful event. The students were the best and Ms. Marinos worked diligently with them, as she always does, to help them feel confident performing on stage in front of our school community.

So many people worked on this event doing: fund-raising, selling tickets, making back drops, supervising students, maintaining order, feeding students, purchasing supplies, arranging permits, staying late to supervise students and staff pro-bono, selling refreshments, and other things. You are too many to name.
A school play, led by Ms. Hartong, is already in the works for the spring.
More pictures under the cut!